Well this is my very first in my Mailbox,
And wooo hooo I wait no more for I have recieved Fragile Eternity!!! Thanks to my Sistah from another Mistah!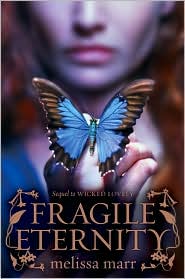 Seth never expected he would want to settle down with anyone—but that was before Aislinn. She is everything he'd ever dreamed of, and he wants to be with her forever. Forever takes on new meaning, though, when your girlfriend is an immortal faery queen.
Aislinn never expected to rule the very creatures who'd always terrified her—but that was before Keenan. He stole her mortality to make her a monarch, and now she faces challenges and enticements beyond any she'd ever imagined.
In Melissa Marr's third mesmerizing tale of Faerie, Seth and Aislinn struggle to stay true to themselves and each other in a milieu of shadowy rules and shifting allegiances, where old friends become new enemies and one wrong move could plunge the Earth into chaos.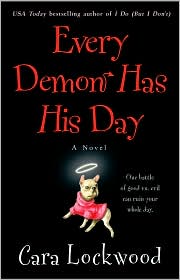 In her wildest dreams, Constance Plyd never thought she'd see dead people. Then again, she never thought she'd be hit on by her ex-husband at his own funeral...or be the prime suspect in his murder. Fortunately for Constance, irresistibly sexy sheriff Nathan Garrett wants to believe her explanation -- that a card-carrying demon in a black suit killed Jimmy in the garage -- or maybe he wants something more. Either way, all signs are leading to a showdown of hellish proportions, with Constance at the heart of the battle, when the Devil and would-be mother of the Antichrist (a pop princess wannabe) descends on Crockett County. Sure, she'd rather be cooking up a storm for the next state fair, but if she's going to be the Chosen One, at least Constance can give a few demons a Texas-style butt kicking....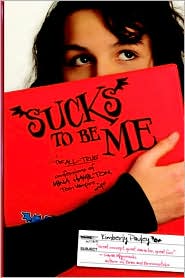 Sucks to Be Me: The All-True Confessions of Mina Hamilton, Teen Vampire (maybe)

Mina Hamilton's parents want her dead. (Or undead to be precise.) They're vampires, and like it or not, Mina must decide whether to become a vampire herself. But Mina's more interested in hanging out with best friend Serena and trying to catch the eye of the too-hot-for-high-school Nathan Able than in the vampire training classes she's being forced to take. How's a girl supposed to find the perfect prom date and pass third-year French when her mom and dad are breathing down her neck--literally?
Sophie Blue started wearing a black skirt and Midnight Noir lipstick on her last birthday. It was also the day her father disappeared. Or spontaneously combusted. Which is sort of bad timing, since a Popsicle truck with tinted windows has started circling the house.Kenny Fade is a basketball god. His sneakers cost more than his Jeep. He's the guy all the ladies (and their mommas) want. Bad.Sophie Blue and Kenny Fade don't have a thing in common. Aside from being reasonably sure they're losing their minds.Acclaimed author Sean Beadoin's wildly innovative novel combines uproarious humor with enough plot twists to fill a tube sock. Park thriller, part darkly comic philosophical discussion, and accompanied by a comic book interstitial, Fade to Blue is a whip-smart romp that keeps readers guessing until the last paragraph.
Heaven couldn't be a phone bank, could it?Charlotte Usher discovers that the afterlife isn't quite what she pictured when she's forced to intern at a hotline for troubled teens. Before she can officially cross over, she'll have to be a source of guidance for one such teen. The problem is she doesn't have much advice to offer since dying hasn't exactly boosted her confidence level. But when Hawthorne High's leading, love-to-hate cheerleader Petula and her gothic little sis' Scarlet find themselves suddenly resting-in-peace in comas, Charlotte's opportunity to save them will prove to be the risk of a lifetime-for all of them.
And Last but not least, I had to get this because it for ever immortalizes my wonderful Twilight loving.. book Sistah from another Mistah....
In this intimate book, readers will follow visionary director Catherine Hardwicke through the creative process that went into transforming Stephenie Meyer's breathtaking novel into box office gold. Designed to replicate the director's own personal notebook that she kept on set, readers will discover the inside secrets on wardrobe, storyboard sketches, behind-the- scenes photographs, personal notes about Catherine's favorite scenes, and much more.